Weekend America broadcast its last show Saturday, January 31, 2009. The show tried to tell the most eye-opening, memorable, astonishing stories about what was happening in America each weekend. On this site you'll find literally thousands of stories spanning nearly five years. Each time you visit the site, the story boxes will refresh with different selections from the archives. You can also use the search tool, or find programs by air date or producer name. Thank you to all the listeners, programmers and staff who made Weekend America a joy to produce. Peter Clowney, executive producer

Time for our weekly parlor game to gauge the week's news. Our guests this week are Luke Burbank, host of the radio show "Too Beautiful To Live" in Seattle; Stacey Grenrock-Woods, a sex advice columnist for Esquire Magazine; and John Roderick, songwriter and guitarist for The Long Winters.

Are black women voters really torn between Senators Hillary Clinton and Barack Obama, as a matter of race and gender? Weekend America host Desiree Cooper weighs in.
Senior executives from Yahoo! and Microsoft have met, signaling Microsoft's takeover deal may soon be worked out. Thousands of Yahoo! employees are left to wonder what will happen to their work environment after a takeover. Krissy Clark reports.

In this latest installment of his series, "Bill's Values", Bill Radke speaks to writer Susan Linn and film critic Richard Schickel about aggressive marketing that targets children and can inhibit their natural tendencies for make-believe.
America's Weekend via Flickr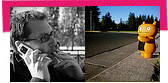 Weekend America Producers