Weekend America broadcast its last show Saturday, January 31, 2009. The show tried to tell the most eye-opening, memorable, astonishing stories about what was happening in America each weekend. On this site you'll find literally thousands of stories spanning nearly five years. Each time you visit the site, the story boxes will refresh with different selections from the archives. You can also use the search tool, or find programs by air date or producer name. Thank you to all the listeners, programmers and staff who made Weekend America a joy to produce. Peter Clowney, executive producer

Brad and Libby Birky's restaurant in Denver, the SAME Cafe (for So All May Eat) does things a little differently. When it comes time to pay for a meal, patrons can pay what they want, or what they can. And if you can't pay, you can volunteer your time. Their theory is that everyone deserves decent, healthy food.

The conflict in Iraq is different from any other for many women in the military. Women are dying in greater numbers, but also facing more difficulties in military life, including sexual harassment. Weekend America host Desiree Cooper gets an update.
Right now millions of Americans are probably counting the minutes until their weekend starts. But the idea of a weekend is a pretty new concept. Krissy Clark reports.

All branches of the U.S. Armed Forces, with the exception of the Army National Guard, have been either meeting or exceeding their monthly recruiting goals. That's a surprise, given American discontent over the war in Iraq. MIT professor Cindy Williams has studied military recruiting trends, and says there is more to the numbers than people think.
America's Weekend via Flickr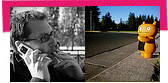 Weekend America Producers