Weekend America broadcast its last show Saturday, January 31, 2009. The show tried to tell the most eye-opening, memorable, astonishing stories about what was happening in America each weekend. On this site you'll find literally thousands of stories spanning nearly five years. Each time you visit the site, the story boxes will refresh with different selections from the archives. You can also use the search tool, or find programs by air date or producer name. Thank you to all the listeners, programmers and staff who made Weekend America a joy to produce. Peter Clowney, executive producer

The Internet was set up to be an open marketplace of ideas. But that model is in jeopardy due to Distributed Denial of Service or DDoS attacks. We've been hearing a lot about these in relation to Wikileaks, but a new report indicates that DDoS attacks as a form of suppression are on the rise.

From immigration to Sen. Barack Obama to Middle Eastern prejudices, race is a hot topic in the news. Journalists are meeting this weekend at the Unity convention in Chicago to discuss how race and ethnicity is covered by the media. Weekend America's Desiree Cooper is at the event, and she speaks with two seasoned journalists about the difficulties of accurately reporting on racial diversity.
James Plakovic's unique map of the planet Earth looks familiar, until you look real close: It's made of musical notes, a score for 37 instruments. It may be difficult to listen to and a little chaotic. But then again, so is the real Earth.

The Department of Homeland Security is building a border wall/fence along the U.S. border with Mexico. Authorities want to put a wall across Eloisa Tamez' property in south Texas -- a wall that will cut in half the land that has been in her family for centuries.
America's Weekend via Flickr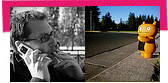 Weekend America Producers