Weekend America broadcast its last show Saturday, January 31, 2009. The show tried to tell the most eye-opening, memorable, astonishing stories about what was happening in America each weekend. On this site you'll find literally thousands of stories spanning nearly five years. Each time you visit the site, the story boxes will refresh with different selections from the archives. You can also use the search tool, or find programs by air date or producer name. Thank you to all the listeners, programmers and staff who made Weekend America a joy to produce. Peter Clowney, executive producer

In honor of Labor Day, we take a look at how technologies affect our work ethic, and the significance in giving each other our undivided attention.

Main Street and Wall Street are probably the two most cliched street names in the news right now when it comes to talking about the economy. But what about Madison Avenue? Not the one in New York City, the one in Detroit. It's the location of the city's 36th District Court. We sent Desiree Cooper there to talk with court personnel about crime. But when she got there, she found that folks in weekend court have a different priority: The economy.
BP has said it will pay for the oil disaster in the Gulf. And it's asking two partners to help. Anadarko Petroleum and Mitsui Oil Exploration own 35% the destroyed well. And BP contends they're liable for 35% of the costs. Krissy Clark reports the companies aren't necessarily reaching for their checkbooks.

According to a parenting expert, I am helping my 15-month-old daughter accept herself as she is. But maybe I'm not taking my own advice, and maybe I'm not as easy-going a parent as I think I am. I'm enlightened -- but I'm not really sounding that way, am I?
America's Weekend via Flickr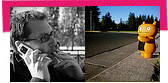 Weekend America Producers