Weekend America broadcast its last show Saturday, January 31, 2009. The show tried to tell the most eye-opening, memorable, astonishing stories about what was happening in America each weekend. On this site you'll find literally thousands of stories spanning nearly five years. Each time you visit the site, the story boxes will refresh with different selections from the archives. You can also use the search tool, or find programs by air date or producer name. Thank you to all the listeners, programmers and staff who made Weekend America a joy to produce. Peter Clowney, executive producer

The big topic after the Republican National Convention seems to be Sarah Palin, an unknown when McCain picked her. The word you keep hearing is "gamble." She could flame out or pay off. It makes sense if you know that McCain likes to gamble. He's a craps player. Meanwhile, Barack Obama has stayed relatively quiet regarding Palin. As if he's sizing her up, reading her the way a poker player would. Turns out Obama loves poker.

Weekend America host Desiree Cooper speaks with Martin White, a single-issue voter in Iowa; and Ed Sarpolus of Michigan State about how single-issues can backfire on candidates.
The city of Las Vegas, Nev., has been hit hard by the subprime mortgage crisis and recent economic turmoil. Property values have plummeted, and the area has one of the highest foreclosure rates in the country. Things are especially dire in the newer parts of the city and freshly built subdivisions, like the gated community of San Niccolo.

Sue Ely listens to "Haunted House" by Natalia Zukerman on the weekends. Host Bill Radke gets inside it.
America's Weekend via Flickr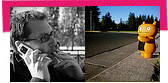 Weekend America Producers