Weekend America broadcast its last show Saturday, January 31, 2009. The show tried to tell the most eye-opening, memorable, astonishing stories about what was happening in America each weekend. On this site you'll find literally thousands of stories spanning nearly five years. Each time you visit the site, the story boxes will refresh with different selections from the archives. You can also use the search tool, or find programs by air date or producer name. Thank you to all the listeners, programmers and staff who made Weekend America a joy to produce. Peter Clowney, executive producer

The FCC announced a position that passively supports network neutrality and could change the way people experience the Internet.

Listeners share memories from the moment the Rev. Martin Luther King, Jr.'s was assassinated, and sound off about last week's story of a man trying to find a wife in Thailand, and his son's trepidation about that quest.
Weekend America's Krissy Clark recently noticed some mysterious fliers posted on phone poles around the Los Angeles area. They say: "Lost!!!! I lost my heart somewhere between downtown LA and Venice and it might be broken. If found, please email find.my.heart@gmail.com. I really need it back!" The fliers made Clark laugh, but also left her wondering who would respond. We meet some of the people who were drawn in.

L.A. Times columnist Steve Lopez wrote the first chapter of a new, online, collaborative novel project -- then he let the world write what happens next. The experiment has taken some surprising turns and the characters are getting dark and even stranger.
America's Weekend via Flickr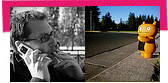 Weekend America Producers