Weekend America broadcast its last show Saturday, January 31, 2009. The show tried to tell the most eye-opening, memorable, astonishing stories about what was happening in America each weekend. On this site you'll find literally thousands of stories spanning nearly five years. Each time you visit the site, the story boxes will refresh with different selections from the archives. You can also use the search tool, or find programs by air date or producer name. Thank you to all the listeners, programmers and staff who made Weekend America a joy to produce. Peter Clowney, executive producer

The Supreme Court is opening its new session. On the docket: several cases that touch on technology. We talk with legal scholar Jeffrey Rosen about cases involving video games, privacy, and whether AT&T counts as a person in our conversation. Also in this show, the Senate wants commercials to be quieter. What might that sound like?

After Hillary Clinton's win in New Hampshire, pundits have been arguing over whether the "Bradley Effect" contributed to Barack Obama's second-place finish. That's the phenomenon of voters telling pollsters they support a black candidate, but changing their minds in the voting booth. Weekend America's Desiree Cooper sits down with author and professor Michael Fauntroy to find out what's going on .
In California, a state initiative called Proposition 8 is on the ballot to ban gay marriage through an amendment to the state constitution. The outcome of Proposition 8 could affect whether other states allow gay marriage. And the race has gotten close, expensive and extremely polarized. But there are some people who, though they have strong opinions, are trying to stay above the fray.

Last January, "Weekend America" ran a profile of the R&B cover band Groove Alliance. Their lead singer, Mike Pacheco, is an Army major. When Mike went to Baghdad for 15 months, his fellow band members joined him there to play some benefit shows. Now that Mike back with his family, he's frustrated that Americans seem to care more about "Iraq" the policy debate than about the Iraqi people.
America's Weekend via Flickr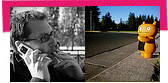 Weekend America Producers