Weekend America broadcast its last show Saturday, January 31, 2009. The show tried to tell the most eye-opening, memorable, astonishing stories about what was happening in America each weekend. On this site you'll find literally thousands of stories spanning nearly five years. Each time you visit the site, the story boxes will refresh with different selections from the archives. You can also use the search tool, or find programs by air date or producer name. Thank you to all the listeners, programmers and staff who made Weekend America a joy to produce. Peter Clowney, executive producer

We have some good news and some bad news today. The good news: an arrest has been made of a guy who is said to be behind one third of all spam being sent in the world today. The bad news: your computer may be part of that zombie army and it's really hard to do anything about it.

Weekend America host Desiree Cooper speaks with Martin White, a single-issue voter in Iowa; and Ed Sarpolus of Michigan State about how single-issues can backfire on candidates.
In California, I-5 connects Los Angeles with San Francisco. The trip takes about six hours, and it can be monotonous. But almost exactly halfway between the two towns, there is a stop that distinguishes itself. By smell.

Our panel takes on the pressing issues and absurd moments of the week that was: "New Yorker" cartoonist Bob Mankoff, Yale English professor Amy Hungerford and conservative commentator Tara Setmayer.
America's Weekend via Flickr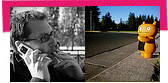 Weekend America Producers