Weekend America broadcast its last show Saturday, January 31, 2009. The show tried to tell the most eye-opening, memorable, astonishing stories about what was happening in America each weekend. On this site you'll find literally thousands of stories spanning nearly five years. Each time you visit the site, the story boxes will refresh with different selections from the archives. You can also use the search tool, or find programs by air date or producer name. Thank you to all the listeners, programmers and staff who made Weekend America a joy to produce. Peter Clowney, executive producer

The website Hunch, instead of assuming it knows your interests, allows you to tell it exactly what you want from the Internet.

Cuban-American author and Professor Cristina Garcia shares her feelings about what it means to be Cuban and how Fidel Castro's resignation may affect her community.
Weekend America's Krissy Clark recently noticed some mysterious fliers posted on phone poles around the Los Angeles area. They say: "Lost!!!! I lost my heart somewhere between downtown LA and Venice and it might be broken. If found, please email find.my.heart@gmail.com. I really need it back!" The fliers made Clark laugh, but also left her wondering who would respond. We meet some of the people who were drawn in.

Fertility rates in the U.S. are at an all-time high. It might be good for the future of social security; not so much for the environment. Weekend America host Bill Radke weighs the arguments as he and his wife contemplate having another child.
America's Weekend via Flickr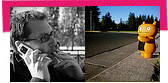 Weekend America Producers