Weekend America broadcast its last show Saturday, January 31, 2009. The show tried to tell the most eye-opening, memorable, astonishing stories about what was happening in America each weekend. On this site you'll find literally thousands of stories spanning nearly five years. Each time you visit the site, the story boxes will refresh with different selections from the archives. You can also use the search tool, or find programs by air date or producer name. Thank you to all the listeners, programmers and staff who made Weekend America a joy to produce. Peter Clowney, executive producer

Whatever happened to jokes? Not just saying something funny, but a real joke with a set up and punchline. Guest host John Moe asks Chris Cashman of Seattle, the recent winner of a joke-telling contest.

The second-annual GI Film Festival gets underway in Washington, D.C. this weekend. They're showing a mix of recent feature films, documentaries, even some classics. Larry Suid is a military historian, speaking on a panel today about the 100 greatest war movies. Desiree Cooper asks what makes a good war film.
Although Jonathan Berger, a composer and professor of music at Stanford University, has only been on a golf course once in his life, a certain aspect of the sport has played an interesting role in his research. What fascinates him about golf is the same as in cancer cells and oil spills -- their sound.

A few weeks ago, we aired a story about a woman who hitchhiked on her spring break to Florida back in 1972. We got lots of letters about that story, including one from the state trooper who picked up that hitchhiker and her friends. She hadn't spoken to the state trooper since 1972, but Weekend America changed all that.
America's Weekend via Flickr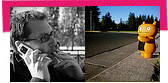 Weekend America Producers