Weekend America broadcast its last show Saturday, January 31, 2009. The show tried to tell the most eye-opening, memorable, astonishing stories about what was happening in America each weekend. On this site you'll find literally thousands of stories spanning nearly five years. Each time you visit the site, the story boxes will refresh with different selections from the archives. You can also use the search tool, or find programs by air date or producer name. Thank you to all the listeners, programmers and staff who made Weekend America a joy to produce. Peter Clowney, executive producer

There's more to the 2008 campaign than Obama, Clinton and McCain. We catch up with former Alaska Sen. Mike Gravel, who may yet earn the title of the "real maverick." He started out as a Democrat, but now he's is running as a Libertarian.

Six months since the I-35 W bridge collapse in Minneapolis, construction plans have been going at warp speed. Crews have been working for about three and a half months, nearly around the clock, to build a new bridge by its scheduled opening date of Dec. 24. Round-the-clock work crews are nothing new, but in the dead of Minnesota winter, it's a feat. We check in with the workers building in sub-zero temperatures.
The tragic death of a young man at a circuit board manufacturer puts a new focus on small factories where mostly Latino workers toil to create critical parts for our electronic devices. Once Silicon Valley was home to hundreds of such factories, but now most have moved overseas, mainly to China.

All branches of the U.S. Armed Forces, with the exception of the Army National Guard, have been either meeting or exceeding their monthly recruiting goals. That's a surprise, given American discontent over the war in Iraq. MIT professor Cindy Williams has studied military recruiting trends, and says there is more to the numbers than people think.
America's Weekend via Flickr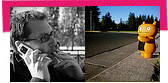 Weekend America Producers