Weekend America broadcast its last show Saturday, January 31, 2009. The show tried to tell the most eye-opening, memorable, astonishing stories about what was happening in America each weekend. On this site you'll find literally thousands of stories spanning nearly five years. Each time you visit the site, the story boxes will refresh with different selections from the archives. You can also use the search tool, or find programs by air date or producer name. Thank you to all the listeners, programmers and staff who made Weekend America a joy to produce. Peter Clowney, executive producer

Ever since John Moe moved to St. Paul last March, he's been on alert, waiting for the next weather extreme. It was eight degrees below zero when he arrived, and there was snow on the ground until April. Spring was around just long enough to get a whiff of the wild flowers, and summer seems like it started about a week ago. Now, we're on to fall, and John's started bracing for the winter. Before then, we had him get some insight into what fall has in store for him.

After Martin Luther King, Jr., was assassinated, elementary school teacher Jane Elliott changed her lesson plan, dramatically. She divided up her all-white students by eye-color and then discriminated against one group, in order to teach them about racial injustice. The experiment had a huge impact.
The Bay Area city of Berkeley is often mocked as "Bezerkeley" or called the "People's Republic of Berkeley." But a new exhibit showcases all the firsts that the rest of the nation eventually emulated: police academies, gourmet coffee and brewpubs. So what's next? Krissy Clark sifts the past for a peek at the future.

According to a parenting expert, I am helping my 15-month-old daughter accept herself as she is. But maybe I'm not taking my own advice, and maybe I'm not as easy-going a parent as I think I am. I'm enlightened -- but I'm not really sounding that way, am I?
America's Weekend via Flickr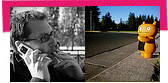 Weekend America Producers