Weekend America broadcast its last show Saturday, January 31, 2009. The show tried to tell the most eye-opening, memorable, astonishing stories about what was happening in America each weekend. On this site you'll find literally thousands of stories spanning nearly five years. Each time you visit the site, the story boxes will refresh with different selections from the archives. You can also use the search tool, or find programs by air date or producer name. Thank you to all the listeners, programmers and staff who made Weekend America a joy to produce. Peter Clowney, executive producer

Google has become synonymous with internet searching, but it might not always be. Others -- including Facebook -- are taking approaches to get in on the search field.

Weekend America host Desiree Cooper speaks with Martin White, a single-issue voter in Iowa; and Ed Sarpolus of Michigan State about how single-issues can backfire on candidates.
The civil ceremony performers who make all those marriages legit are the true unsung heroes of June. And for at least one of those civil servants in Northern California, the diagnosis this weekend is exhaustion and the slightest case of something he never really thought he'd have -- his own pre-wedding jitters...

Two of the Best Picture nominations, "No Country for Old Men" and "There Will be Blood," were shot in the small, southwest Texas town of Marfa. We hear from a local resident about the experience of having Hollywood invade his quiet town.
America's Weekend via Flickr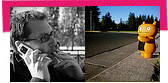 Weekend America Producers