Weekend America broadcast its last show Saturday, January 31, 2009. The show tried to tell the most eye-opening, memorable, astonishing stories about what was happening in America each weekend. On this site you'll find literally thousands of stories spanning nearly five years. Each time you visit the site, the story boxes will refresh with different selections from the archives. You can also use the search tool, or find programs by air date or producer name. Thank you to all the listeners, programmers and staff who made Weekend America a joy to produce. Peter Clowney, executive producer

As Christmas approaches, it's hard to escape from "A Christmas Carol." The classic Charles Dickens tale is on stage in cities around the nation. Here in the Twin Cities, actor Michael Booth has played the role of Bob Cratchit, Scrooge's put-upon employee, for six years. We wondered how he kept things fresh. John Moe went backstage at a recent performance to find out.

Many people in the United States have fond memories of summer road-trip vacations, and our Desiree Cooper is no different. But the specter of racism colors some of her most treasured family memories.
Auto industry CEOs and union leaders are back in Detroit empty-handed this weekend. They spent the week on Capitol Hill begging, unsuccessfully, for help to avoid possible bankruptcy and even more layoffs. Congress has refused to bail them out, at least so far. But in the meantime, we thought we'd offer our own bailout. Not in dollars, but in ideas. How should we re-imagine the American car?

Fertility rates in the U.S. are at an all-time high. It might be good for the future of social security; not so much for the environment. Weekend America host Bill Radke weighs the arguments as he and his wife contemplate having another child.
America's Weekend via Flickr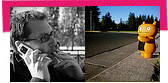 Weekend America Producers