Weekend America broadcast its last show Saturday, January 31, 2009. The show tried to tell the most eye-opening, memorable, astonishing stories about what was happening in America each weekend. On this site you'll find literally thousands of stories spanning nearly five years. Each time you visit the site, the story boxes will refresh with different selections from the archives. You can also use the search tool, or find programs by air date or producer name. Thank you to all the listeners, programmers and staff who made Weekend America a joy to produce. Peter Clowney, executive producer

John Moe recently moved his family from Seattle to St. Paul, Minn. It was a big shift -- two kids, a house that had been a home for 10 years. He's been keeping track of the process in a series of stories called Moving Day. In this episode, he heads east with an unlikely traveling companion.

After Hillary Clinton's win in New Hampshire, pundits have been arguing over whether the "Bradley Effect" contributed to Barack Obama's second-place finish. That's the phenomenon of voters telling pollsters they support a black candidate, but changing their minds in the voting booth. Weekend America's Desiree Cooper sits down with author and professor Michael Fauntroy to find out what's going on .
Krissy Clark was 11 when she realized her dad had killed someone. She had always suspected there was a story behind the samurai sword and Japanese military helmet that hung above the mantle, but it was only later that it all came together.

This week's panelists discuss a stimulus package, the fight between the Clintons and Obama and a very angry voicemail message.
America's Weekend via Flickr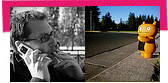 Weekend America Producers