Weekend America broadcast its last show Saturday, January 31, 2009. The show tried to tell the most eye-opening, memorable, astonishing stories about what was happening in America each weekend. On this site you'll find literally thousands of stories spanning nearly five years. Each time you visit the site, the story boxes will refresh with different selections from the archives. You can also use the search tool, or find programs by air date or producer name. Thank you to all the listeners, programmers and staff who made Weekend America a joy to produce. Peter Clowney, executive producer

The company that produces electronics for companies like HP, Apple and Nokia is reporting a high number of suicides and suicide attempts at its plant in China.

This week, Radio One, Inc. published a major survey of the African-American community. Researchers polled more than 3000 people about their attitudes toward everything from religion to health insurance. Turns out blacks are evenly divided over what they want to be called--black or African American. But that's not the only surprising finding.
The tragic death of a young man at a circuit board manufacturer puts a new focus on small factories where mostly Latino workers toil to create critical parts for our electronic devices. Once Silicon Valley was home to hundreds of such factories, but now most have moved overseas, mainly to China.

Indiana Jones has taught the world what it takes to be an archaeologist: carry a bullwhip and avoid Nazis. Real-world archaeologist Rebecca Graff's brand of archeology is a little closer to home -- she and a team of 20 undergrads are digging up Chicago's Jackson Park to find artifacts from the World's Fair of 1893.
America's Weekend via Flickr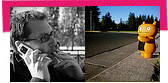 Weekend America Producers