Weekend America broadcast its last show Saturday, January 31, 2009. The show tried to tell the most eye-opening, memorable, astonishing stories about what was happening in America each weekend. On this site you'll find literally thousands of stories spanning nearly five years. Each time you visit the site, the story boxes will refresh with different selections from the archives. You can also use the search tool, or find programs by air date or producer name. Thank you to all the listeners, programmers and staff who made Weekend America a joy to produce. Peter Clowney, executive producer

The decision to allow jailbreaking -- running any sort of software on any kind of phone -- could hint at a larger change ahead in terms of digital ownership.

When he woke up in a psych ward after a drunken suicide attempt, Owen Lowery made a list of 52 things he wanted to do, and then spent the next year meeting them. He fought a shark, went hang gliding, and made someone's dream come true. Making a movie was at the top of the list, so he filmed himself going through his self-imposed check-list. We talk to Lowery about his film, "An Alternative to Slitting Your Wrists."
The city of Las Vegas, Nev., has been hit hard by the subprime mortgage crisis and recent economic turmoil. Property values have plummeted, and the area has one of the highest foreclosure rates in the country. Things are especially dire in the newer parts of the city and freshly built subdivisions, like the gated community of San Niccolo.

Roxanne Cronin listens to "Icy Blue Heart" by John Hiatt while she cleans. And mends a broken heart.
America's Weekend via Flickr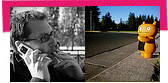 Weekend America Producers