Weekend America broadcast its last show Saturday, January 31, 2009. The show tried to tell the most eye-opening, memorable, astonishing stories about what was happening in America each weekend. On this site you'll find literally thousands of stories spanning nearly five years. Each time you visit the site, the story boxes will refresh with different selections from the archives. You can also use the search tool, or find programs by air date or producer name. Thank you to all the listeners, programmers and staff who made Weekend America a joy to produce. Peter Clowney, executive producer

How important is staying technologically connected when you're being a parent? It can help you make the parenting experience less isolating, but it could also isolate you from your child.

Sixteen-year-old Amanda and her brother, 18-year-old Chris, have been foster children for most of their lives. They were recently featured in the American Radio Works documentary "Wanted: Parents." It follows them over the course of two years, as they search for an adoptive family. "Weekend America" host Desiree Cooper checks in with Amanda and Chris for an update.
Right now millions of Americans are probably counting the minutes until their weekend starts. But the idea of a weekend is a pretty new concept. Krissy Clark reports.

Of course we'll hear about Dr. King and Malcom X, Harriet Tubman and Frederick Douglass during Black History Month, but of course, there's more. Dr. Lisbeth Gant-Britton, a UCLA professor, says specialty months are important to remind people that there are great people of all kinds and that diversity is the foundation upon which this country was built.
America's Weekend via Flickr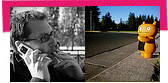 Weekend America Producers