Weekend America broadcast its last show Saturday, January 31, 2009. The show tried to tell the most eye-opening, memorable, astonishing stories about what was happening in America each weekend. On this site you'll find literally thousands of stories spanning nearly five years. Each time you visit the site, the story boxes will refresh with different selections from the archives. You can also use the search tool, or find programs by air date or producer name. Thank you to all the listeners, programmers and staff who made Weekend America a joy to produce. Peter Clowney, executive producer

It's become harder to turn down a friend request on Facebook. You used to be able to just click "accept" or "ignore," but the social network site has changed those options to "accept" or "not now." That may change the way you Facebook. We talk with B.J. Fogg at Stanford University and Clary Shirky, who's written on the social effects of technology, to get their perspectives.

Thirty years ago today, the Supreme Court ruled in the case of U.C. Regents v. Bakke that public institutions can't put quotas on minority student enrollment. But the ruling wasn't clear-cut about the role of affirmative action. Desiree Cooper talks with University of Houston professor Cathy Horn about the ruling's impact.
It's relatively easy to measure how much a Gulf businessman lost in products and profits due to the BP oil spill -- but how about the tears shed and the stress caused by the spill? Marketplace's Krissy Clark looks into the tricky method of measuring "non-use value."

Clytee Gold is the only Mormon in a family of evangelicals. She tells Bill Radke what impact Mitt Romney's candidacy has had on her life.
America's Weekend via Flickr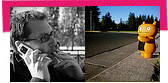 Weekend America Producers