Weekend America broadcast its last show Saturday, January 31, 2009. The show tried to tell the most eye-opening, memorable, astonishing stories about what was happening in America each weekend. On this site you'll find literally thousands of stories spanning nearly five years. Each time you visit the site, the story boxes will refresh with different selections from the archives. You can also use the search tool, or find programs by air date or producer name. Thank you to all the listeners, programmers and staff who made Weekend America a joy to produce. Peter Clowney, executive producer

Ever since John Moe moved to St. Paul last March, he's been on alert, waiting for the next weather extreme. It was eight degrees below zero when he arrived, and there was snow on the ground until April. Spring was around just long enough to get a whiff of the wild flowers, and summer seems like it started about a week ago. Now, we're on to fall, and John's started bracing for the winter. Before then, we had him get some insight into what fall has in store for him.

Foreclosures are ravaging the historic Detroit neighborhood of Palmer Woods, where reporter Desiree Cooper has lived for the past two decades. Many of the historic homes are now in advanced stages of foreclosure as home prices fall hundreds of thousands of dollars. Instead of weathering the storm, two of Cooper's neighbors are walking away.
The recession is starting to get you all fired up for some last minute Christmas shopping, right? Because don't forget, every time you reach for your wallet, not only do you hold the fate of your own economic health in your hands, you also hold the fate of the nation's. This is a big and completely confusing responsibility. So what do you do? That's what Weekend America's Krissy Clark wanted to know.

Two of the Best Picture nominations, "No Country for Old Men" and "There Will be Blood," were shot in the small, southwest Texas town of Marfa. We hear from a local resident about the experience of having Hollywood invade his quiet town.
America's Weekend via Flickr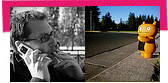 Weekend America Producers