Weekend America broadcast its last show Saturday, January 31, 2009. The show tried to tell the most eye-opening, memorable, astonishing stories about what was happening in America each weekend. On this site you'll find literally thousands of stories spanning nearly five years. Each time you visit the site, the story boxes will refresh with different selections from the archives. You can also use the search tool, or find programs by air date or producer name. Thank you to all the listeners, programmers and staff who made Weekend America a joy to produce. Peter Clowney, executive producer

This week, T-Mobile started advertising that it has the nation's largest 4G network. Meanwhile, Sprint, for a while now, has said it has the first wireless 4G network. Verizon's been talking up their 4G too. And it all sounds very attractive if you've been using a 3G network all this time. But what's the difference between a 3G and a 4G network?

More than two dozen states will hold primaries and caucuses on Feb. 5. This weekend the campaigning is intense, as the surviving candidates try to hit more states than ever before. Barbara Norrander, a political science teacher at the University of Arizona, tells Weekend America host Desiree Cooper about how Super Tuesday came to be, and why it may be a relic by the next election cycle.
As the economy slows, food prices rise, and more families are turning to food stamps and food banks to get by. It's enough to make the whole eating thing an anxiety-ridden affair. But solace might be found in an old book.

Food from cloned animals, ditching physical education in school for teaching life skills, and no more clowns in hospital decor. Is all this good news, bad news or no news?
America's Weekend via Flickr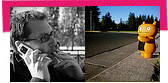 Weekend America Producers