Weekend America broadcast its last show Saturday, January 31, 2009. The show tried to tell the most eye-opening, memorable, astonishing stories about what was happening in America each weekend. On this site you'll find literally thousands of stories spanning nearly five years. Each time you visit the site, the story boxes will refresh with different selections from the archives. You can also use the search tool, or find programs by air date or producer name. Thank you to all the listeners, programmers and staff who made Weekend America a joy to produce. Peter Clowney, executive producer

A new breakthrough in the field of prosthetic limbs could make available a new generation of arms that are more nimble and dexterous than ever before. And not only do they resemble a natural arm in shape, size, weight, and strength, they have much more sophisticated wiring, letting the wearer operate the arm with brain signals.

Overseas, one group who has been pulling for Barack Obama in the political elections here are Kenyans. Obama's father was Kenyan. But in the wake of recent strife, some are reconsidering their support for tribal reasons. Weekend America host Desiree Cooper speaks with ABC News correspondent Dana Hughes about the change.
You might assume that the majority of people in danger of losing their homes to foreclosure are young or inexperienced. But a recent study by the AARP shows that nearly a third of all people facing foreclosure are 50 or older. Krissy Clark reports.

Our non-experts tackle the weighty issues of the past week -- Fashion maven Damali Ayo; Luke Burbank, host of the talk radio show "Too Beautiful to Live"; and "New Yorker" cartoonist Bob Mankoff.
America's Weekend via Flickr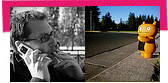 Weekend America Producers