Weekend America broadcast its last show Saturday, January 31, 2009. The show tried to tell the most eye-opening, memorable, astonishing stories about what was happening in America each weekend. On this site you'll find literally thousands of stories spanning nearly five years. Each time you visit the site, the story boxes will refresh with different selections from the archives. You can also use the search tool, or find programs by air date or producer name. Thank you to all the listeners, programmers and staff who made Weekend America a joy to produce. Peter Clowney, executive producer

Weekend America gets a lot of letters about coverage of the campaign, and one complaint keeps coming up about media coverage in general: too much focus on the personalities, not enough on the issues. So we decided to run a little experiment. We've taken the remaining candidates for president, given them pseudonyms, and summarized what they stand for. Can you guess who stands for what?

Reggie Prim spent his childhood being raised with the Black Hebrews in Israel. As a kid, he sang with the music group the Tonistics - a religious soul group modeled after the Jackson 5. The Tonistics' songs from the early 1970s have just been re-released. Reggie isn't exactly nostalgic for his childhood in Israel. But the re-release of the music from Dimona has brought back memories about his extraordinary journey from Israel back to the United States.
In California, I-5 connects Los Angeles with San Francisco. The trip takes about six hours, and it can be monotonous. But almost exactly halfway between the two towns, there is a stop that distinguishes itself. By smell.

John McCain aired a TV ad comparing Barack Obama to Paris Hilton and Britney Spears. ("He's the biggest celebrity in the world, but is he ready to lead?") Is this campaign tactic Good News, Bad News or No News?
America's Weekend via Flickr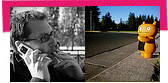 Weekend America Producers