Weekend America broadcast its last show Saturday, January 31, 2009. The show tried to tell the most eye-opening, memorable, astonishing stories about what was happening in America each weekend. On this site you'll find literally thousands of stories spanning nearly five years. Each time you visit the site, the story boxes will refresh with different selections from the archives. You can also use the search tool, or find programs by air date or producer name. Thank you to all the listeners, programmers and staff who made Weekend America a joy to produce. Peter Clowney, executive producer

What's the scariest movie moment you recall from childhood? It might not even be from a movie that was supposed to be terrifying. Instead, maybe it was a weird little moment of fright in a movie that seemed fairly innocent. Perhaps Gene Wilder's psychedelic boat ride in "Willy Wonka"? The Child Catcher in "Chitty Chitty Bang Bang"? Or the ultimate in childhood terror: the flying monkeys in "The Wizard of Oz."

This weekend, you might be headed to the mall to see Santa. Some kids can't wait to get on Santa's knee. Others go to Santa kicking and screaming. For some people of color, the local mall's Santa can bring on a crisis of a different sort. As part of the series Inside Blackness, we hear about the complicated relationship some black families have with the traditional Santa Claus.
"Crash taxes" may go by other names, but they're essentially fees for public services like fire department response and clean-up in auto accidents. But who should foot the bill?

Our panel of non-experts reviews the week's news. This week, conservative commentator David Frum, sex columnist Dan Savage and performance artist damali ayo talk politics, colds, fakes and chores.
America's Weekend via Flickr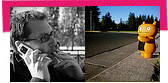 Weekend America Producers