Weekend America broadcast its last show Saturday, January 31, 2009. The show tried to tell the most eye-opening, memorable, astonishing stories about what was happening in America each weekend. On this site you'll find literally thousands of stories spanning nearly five years. Each time you visit the site, the story boxes will refresh with different selections from the archives. You can also use the search tool, or find programs by air date or producer name. Thank you to all the listeners, programmers and staff who made Weekend America a joy to produce. Peter Clowney, executive producer

Weekend America's John Moe wanted to find out how to get warm and stay warm outside no matter what the thermometer said. He explores precisely how to dress (and how much it will cost you) and what techniques to employ to insure that you'll be able to spend some time this weekend in the great outdoors.

"Individualism is great but at the same time, it consumes a tremendous amount of resources. We all understand the value of having our own car, but when gas is costing $4.50-$4.60 per gallon and likely to go up, people have an incentive to rethink some of these ideas."
At the yearly joint meeting of the American Dialect Society and the Linguistic Society of America this weekend, members will select the words of the year for 2008. The linguists like to think the words they choose shed light on the way our language and our culture have changed over the last year.

For nearly 30 years Arthur Wood has been turning a brick building in Brooklyn into a handmade sculpture. It's called Broken Angel and it has become a cultural icon in the neighborhood. But last October a fire broke out. That's when the real trouble began. We talk with Arthur Wood and his son Christopher about their home.
America's Weekend via Flickr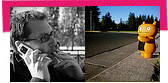 Weekend America Producers