Weekend America broadcast its last show Saturday, January 31, 2009. The show tried to tell the most eye-opening, memorable, astonishing stories about what was happening in America each weekend. On this site you'll find literally thousands of stories spanning nearly five years. Each time you visit the site, the story boxes will refresh with different selections from the archives. You can also use the search tool, or find programs by air date or producer name. Thank you to all the listeners, programmers and staff who made Weekend America a joy to produce. Peter Clowney, executive producer

Our panel of non-experts weigh in on this week's news events in a parlor game to gauge what kind of week America had. Joining us on this week's panel are Esquire columnist Stacey Grenrock-Woods; Reason Magazine contributing editor Kerry Howley; and Eugene Jarecki, documentary filmmaker and author of "The America Way of War."

Members of Macomb County's Renaissance Unity church faced the legacy of racism eight years ago. Out of the blue, their white, female minister asked whites to apologize to blacks in a forgiveness ceremony. The church has had several ministers since then. But church members say they'll never forget the impact of that moment.
Abraham Lincoln spent five years sharing a bed, and his intimate thoughts, with his best friend Joshua Speed. Some scholars have used this as proof that Lincoln was gay. Others have maintained that close male relationships like this were much more common back before homophobia was invented. Weekend America's Krissy Clark explores the issue.

Congress is passing a bill to help homeowners facing foreclosure and to shore up struggling mortgage giants Fannie Mae and Freddie Mac. President Bush doesn't love it but he won't veto it. Is the bill Good News, Bad News or No News?
America's Weekend via Flickr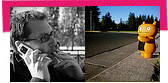 Weekend America Producers