Weekend America broadcast its last show Saturday, January 31, 2009. The show tried to tell the most eye-opening, memorable, astonishing stories about what was happening in America each weekend. On this site you'll find literally thousands of stories spanning nearly five years. Each time you visit the site, the story boxes will refresh with different selections from the archives. You can also use the search tool, or find programs by air date or producer name. Thank you to all the listeners, programmers and staff who made Weekend America a joy to produce. Peter Clowney, executive producer

As Christmas approaches, it's hard to escape from "A Christmas Carol." The classic Charles Dickens tale is on stage in cities around the nation. Here in the Twin Cities, actor Michael Booth has played the role of Bob Cratchit, Scrooge's put-upon employee, for six years. We wondered how he kept things fresh. John Moe went backstage at a recent performance to find out.

On the front page of Friday's New York Times, an article called "Donors Worried by Clinton Campaign Spending" detailed the millions that Senator Hillary Clinton is spending on her presidential run. Most of the money was spent on what you'd expect: thousands on hotel rooms, campaign consultants, media buys and polling. But some of the expenditures were pretty odd.
BP has said it will pay for the oil disaster in the Gulf. And it's asking two partners to help. Anadarko Petroleum and Mitsui Oil Exploration own 35% the destroyed well. And BP contends they're liable for 35% of the costs. Krissy Clark reports the companies aren't necessarily reaching for their checkbooks.

Our panel of non-experts review the week's events in a parlor game to gauge what kind of week America had. This week, we hear from Yale literature professor Amy Hungerford; author David Rakoff; and writer and comedian Dana Gould, whose credits include "The Simpsons."
America's Weekend via Flickr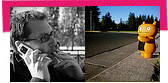 Weekend America Producers