Weekend America broadcast its last show Saturday, January 31, 2009. The show tried to tell the most eye-opening, memorable, astonishing stories about what was happening in America each weekend. On this site you'll find literally thousands of stories spanning nearly five years. Each time you visit the site, the story boxes will refresh with different selections from the archives. You can also use the search tool, or find programs by air date or producer name. Thank you to all the listeners, programmers and staff who made Weekend America a joy to produce. Peter Clowney, executive producer

Unlike common computer viruses that go after your personal data or simply mess with your computer, a new worm is on the loose called Stuxnet, which targets software that controls infrastructure. Experts weigh in on what this means for the debut of Iran's new nuclear power plant, which has been infected by Stuxnet.

Weekend America host Desiree Cooper speaks with Martin White, a single-issue voter in Iowa; and Ed Sarpolus of Michigan State about how single-issues can backfire on candidates.
Next week marks the fifth anniversary of the invasion and occupation of Iraq. Reporter Krissy Clark talks to some people to learn how how things have changed here at home since the war began.

Our panel of non-experts tackle the weighty issues of the week: Conservative commentator Tara Setmayer; comedian and writer Dana Gould; and author John Ridley, who writes the "Visible Man" blog for NPR.org.
America's Weekend via Flickr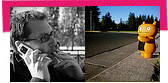 Weekend America Producers