Weekend America broadcast its last show Saturday, January 31, 2009. The show tried to tell the most eye-opening, memorable, astonishing stories about what was happening in America each weekend. On this site you'll find literally thousands of stories spanning nearly five years. Each time you visit the site, the story boxes will refresh with different selections from the archives. You can also use the search tool, or find programs by air date or producer name. Thank you to all the listeners, programmers and staff who made Weekend America a joy to produce. Peter Clowney, executive producer

For many of us, going to see live music on the weekend is something we take for granted. We obsess over a band, listen to their music and go to their shows. There's a smaller segment of the population that has been mostly ignored by musicians, but they're just as passionate about the music: the deaf and hard of hearing. This weekend, a competition kicks off to come up with technology that will help the hard of hearing community experience music.

Joe Sacco travels around the world collecting stories and conducting interviews like other reporters, but instead of writing articles, he draws comics. Sacco's most successful book is called "Palestine." This week, a special edition of the book goes into wide release.
This week, the buzzword was "hope" for many voters around the country. But not for gay and lesbian couples in California, where the electorate passed ballot Proposition 8 - a constitutional amendment banning same-sex marriage. Three lawsuits have already been filed to overturn the ban. While the presidential campaign is finally over, the fight over the definition of marriage still has a long way to go.

In May of 2006 the U.S. Army began allowing married couples to live together in Iraq to boost morale, preserve marriages and bolster re-enlistment rates. Bill Radke talks to Bikiesa and Joe Cole, two sergeants stationed at Camp Falcon in Iraq, about their cramped quarters, private time and the terrors of mortar attacks.
America's Weekend via Flickr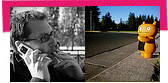 Weekend America Producers