Weekend America broadcast its last show Saturday, January 31, 2009. The show tried to tell the most eye-opening, memorable, astonishing stories about what was happening in America each weekend. On this site you'll find literally thousands of stories spanning nearly five years. Each time you visit the site, the story boxes will refresh with different selections from the archives. You can also use the search tool, or find programs by air date or producer name. Thank you to all the listeners, programmers and staff who made Weekend America a joy to produce. Peter Clowney, executive producer

With gas at more than $4 a gallon nationwide, a lot of American families are feeling the pinch. Sales of the GM Hummer line are down 30 percent -- but that still means there's plenty of folks out there buying and enjoying their symbols of conspicuous consumption. Weekend America's John Moe sought out who's driving the modern Hummer economy.

The station in Wrangell, Alaska, just added Weekend America to its roster, so we decided to drop in on them and see what's happening in the remote fishing village. We talk to Beth Comstock, who works for the local paper, The Wrangell Sentinel.
Stories of families in the throes of losing their homes are all over the news. But what happens to those families -- and the homes -- after the foreclosure is final? Krissy Clark visits a couple in Las Vegas to find out.

Comedian Stephen Colbert got his portrait hung in the Smithsonian's National Portrait Gallery, at the entrance to the restrooms. Humor's not unknown in museums, but we don't always expect to find it there. Weekend America host Bill Radke speaks with conceptual artist and critic Jonathon Keats.
America's Weekend via Flickr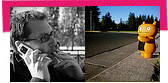 Weekend America Producers