Weekend America broadcast its last show Saturday, January 31, 2009. The show tried to tell the most eye-opening, memorable, astonishing stories about what was happening in America each weekend. On this site you'll find literally thousands of stories spanning nearly five years. Each time you visit the site, the story boxes will refresh with different selections from the archives. You can also use the search tool, or find programs by air date or producer name. Thank you to all the listeners, programmers and staff who made Weekend America a joy to produce. Peter Clowney, executive producer

The government hopes that expanding wireless capabilities and taking advantage of previously unused parts of the radio spectrum could lead to more jobs.

This year's presidential candidates are criss-crossing the country daily, often on only a few hours of sleep a night. What exactly happens to the brain after months of sleep deprivation? To answer that, Weekend America host Desiree Cooper speaks with Matt Walker, director of the Sleep and Neuro-imaging Lab at the University of Calif. at Berkeley.
In the massive wave of foreclosures that have hit many parts of the country this year, nowhere has been hit harder than Las Vegas. Things are especially dire in the recently built subdivisions, like the gated community of San Niccolo. Weekend America's Krissy Clark first went behind the gates of this neighborhood last spring, and she's been bringing us stories from behind the gates.

When Nathan Tift of Edina, Minn., hears "The Heart of Saturday Night," by Tom Waits, he thinks of a time he was in one of the most remote and coldest places on earth: the South Pole.
America's Weekend via Flickr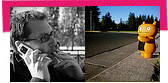 Weekend America Producers