Weekend America broadcast its last show Saturday, January 31, 2009. The show tried to tell the most eye-opening, memorable, astonishing stories about what was happening in America each weekend. On this site you'll find literally thousands of stories spanning nearly five years. Each time you visit the site, the story boxes will refresh with different selections from the archives. You can also use the search tool, or find programs by air date or producer name. Thank you to all the listeners, programmers and staff who made Weekend America a joy to produce. Peter Clowney, executive producer

Bioengineering has made huge advances in translating brain waves into words. Mind-reading, anyone?

Four decades after Rev. Martin Luther King, Jr., was assassinated, he remains one of the most vivid symbols of hope for racial unity in America. But that's not the way he was viewed the last year of his life -- Kate Ellis talks about her hour-long documentary of King's final days.
You might assume that the majority of people in danger of losing their homes to foreclosure are young or inexperienced. But a recent study by the AARP shows that nearly a third of all people facing foreclosure are 50 or older. Krissy Clark reports.

Our panel of non-experts reviews the week's news. This week, comedian Dana Gould, "New Yorker" cartoon editor Bob Mankoff and commentator and political consultant Tara Setmayer talk about former Gov. Spitzer's prostitute problem, Geraldine Ferraro's comments about Barack Obama, feng shui at McDonald's and the legality of dyeing your pooch pink.
America's Weekend via Flickr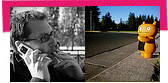 Weekend America Producers