Weekend America broadcast its last show Saturday, January 31, 2009. The show tried to tell the most eye-opening, memorable, astonishing stories about what was happening in America each weekend. On this site you'll find literally thousands of stories spanning nearly five years. Each time you visit the site, the story boxes will refresh with different selections from the archives. You can also use the search tool, or find programs by air date or producer name. Thank you to all the listeners, programmers and staff who made Weekend America a joy to produce. Peter Clowney, executive producer

An issue already facing election season is the reliability of electronic voting. It hasn't been helped by the fact that some engineers were able to program a voting machine to play Pac Man.

A new documentary, "Crossing the Line, Multi-Cultural Comedians," reveals the difficulties that multi-racial comedians, and also the freedom they enjoy. Desiree Cooper talks to two of them.
James Plakovic's unique map of the planet Earth looks familiar, until you look real close: It's made of musical notes, a score for 37 instruments. It may be difficult to listen to and a little chaotic. But then again, so is the real Earth.

Our panel of non-experts reviews the week's news. This week, conservative commentator David Frum, sex columnist Dan Savage and performance artist damali ayo talk politics, colds, fakes and chores.
America's Weekend via Flickr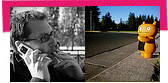 Weekend America Producers