Weekend America broadcast its last show Saturday, January 31, 2009. The show tried to tell the most eye-opening, memorable, astonishing stories about what was happening in America each weekend. On this site you'll find literally thousands of stories spanning nearly five years. Each time you visit the site, the story boxes will refresh with different selections from the archives. You can also use the search tool, or find programs by air date or producer name. Thank you to all the listeners, programmers and staff who made Weekend America a joy to produce. Peter Clowney, executive producer

Hackers busted into the database of blog company Gawker Media over the weekend, accessed 1.3 million user names, passwords, and emails, and proceeded to post that information online. An online chain reaction soon happened where Twitter accounts started spitting out spam because people used the same passwords for different sites.

Listeners share memories from the moment the Rev. Martin Luther King, Jr.'s was assassinated, and sound off about last week's story of a man trying to find a wife in Thailand, and his son's trepidation about that quest.
The Bay Area city of Berkeley is often mocked as "Bezerkeley" or called the "People's Republic of Berkeley." But a new exhibit showcases all the firsts that the rest of the nation eventually emulated: police academies, gourmet coffee and brewpubs. So what's next? Krissy Clark sifts the past for a peek at the future.

Children and young adults seem to be gaining more and more influence on the decisions of their parents. It's natural to want to "empower" kids as they get older, but are we giving our kids too much power?
America's Weekend via Flickr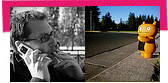 Weekend America Producers