Weekend America broadcast its last show Saturday, January 31, 2009. The show tried to tell the most eye-opening, memorable, astonishing stories about what was happening in America each weekend. On this site you'll find literally thousands of stories spanning nearly five years. Each time you visit the site, the story boxes will refresh with different selections from the archives. You can also use the search tool, or find programs by air date or producer name. Thank you to all the listeners, programmers and staff who made Weekend America a joy to produce. Peter Clowney, executive producer

Google has become synonymous with internet searching, but it might not always be. Others -- including Facebook -- are taking approaches to get in on the search field.

Helene Cooper, author of "The House at Sugar Beach," was raised in Liberia and is now the diplomatic correspondent to The New York Times. As part of our series Inside Blackness, she sat down with Weekend America's Desiree Cooper to discuss the psychological difference between being raised as a black person in Africa versus the United States.
If you Google the phrase "Google's birthday," some results say it's this weekend. Some say it's a couple weeks away. Some say it was a few days ago. It's almost as if you can't trust what you read online. We Google so much, it's an actual verb now. And much has been written about whether it's making us smarter, making us stupider, or just plain changing the way our brains work. Now that so many topics can be explored with Google, what's really left to talk about when you get together with friends to celebrate, or enjoy people's company?

We've been asking you about the music that plays in your time off -- your Weekend Soundtrack. This week's story comes from Julie Nicholds. She listens to us in Wauwatosa, Wis. The soundtrack to her weekend is "Stuck in a Moment" by U2, and she tells us how it turned her life around.
America's Weekend via Flickr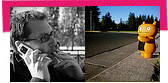 Weekend America Producers