Weekend America broadcast its last show Saturday, January 31, 2009. The show tried to tell the most eye-opening, memorable, astonishing stories about what was happening in America each weekend. On this site you'll find literally thousands of stories spanning nearly five years. Each time you visit the site, the story boxes will refresh with different selections from the archives. You can also use the search tool, or find programs by air date or producer name. Thank you to all the listeners, programmers and staff who made Weekend America a joy to produce. Peter Clowney, executive producer

Twitter has become an important source for real-time news and social networking. We take a look at its future.

The working relationship between Dr. Martin Luther King Jr., and President Lyndon Johnson has come up in the campaigns of Senators Hillary Clinton and Barack Obama for the Democratic presidential nomination. Weekend America host Desiree Cooper speaks with Nick Kotz, historian and author of "Judgment Days: Lyndon Baines Johnson, Martin Luther King Jr., and the Laws That Changed America."
Can you picture Brad Pitt going off to fight in Iraq? It might not have been so strange 50 years ago. Clark Gable, Jimmy Stewart, and James Doohan all fought for the U.S. armed forces during World War II. Nowadays we don't come across too many people who've spent time acting as well as serving in the military. But VetStage, a new theater company in Los Angeles, is trying to change that. "Weekend America's" Krissy Clark spent time with the group while they rehearsed for their first performance, "The Wolf."

Sue Ely listens to "Haunted House" by Natalia Zukerman on the weekends. Host Bill Radke gets inside it.
America's Weekend via Flickr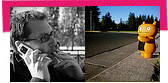 Weekend America Producers