Weekend America broadcast its last show Saturday, January 31, 2009. The show tried to tell the most eye-opening, memorable, astonishing stories about what was happening in America each weekend. On this site you'll find literally thousands of stories spanning nearly five years. Each time you visit the site, the story boxes will refresh with different selections from the archives. You can also use the search tool, or find programs by air date or producer name. Thank you to all the listeners, programmers and staff who made Weekend America a joy to produce. Peter Clowney, executive producer

Aaron Dunn, of the organization Musopen, talks about his project to build a royalty-free library of classical music played by symphony orchestras that you can listen to, make a movie with, and use to sell stuff.

More than two dozen states will hold primaries and caucuses on Feb. 5. This weekend the campaigning is intense, as the surviving candidates try to hit more states than ever before. Barbara Norrander, a political science teacher at the University of Arizona, tells Weekend America host Desiree Cooper about how Super Tuesday came to be, and why it may be a relic by the next election cycle.
In Las Vegas, booming home construction, unscrupulous lending and lots of housing speculation by first-time investors has resulted in some of the nation's highest foreclosure rates. Even high-end gated communities in the suburbs have felt the sting of the market downturn.

Right now, I'm spending them packing up my stuff, getting ready to move with my family to Mexico, which is kind of scary. So this song puts me in a good mood and gets me motivated to actually pack my stuff and get ready and be happy about it. It's such a happy, dancey song.
America's Weekend via Flickr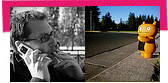 Weekend America Producers