Weekend America broadcast its last show Saturday, January 31, 2009. The show tried to tell the most eye-opening, memorable, astonishing stories about what was happening in America each weekend. On this site you'll find literally thousands of stories spanning nearly five years. Each time you visit the site, the story boxes will refresh with different selections from the archives. You can also use the search tool, or find programs by air date or producer name. Thank you to all the listeners, programmers and staff who made Weekend America a joy to produce. Peter Clowney, executive producer

The Wall Street Journal recently analyzed 101 popular apps for iPhone and Android and found most of them to be sharing some user information with advertisers. We talk about what's being shared and what it means to you.

After Martin Luther King, Jr., was assassinated, elementary school teacher Jane Elliott changed her lesson plan, dramatically. She divided up her all-white students by eye-color and then discriminated against one group, in order to teach them about racial injustice. The experiment had a huge impact.
In this, the penultimate weekend before the election, you might be wondering what Obama and McCain are doing in their off-camera moments. That's what Weekend America's Krissy Clark was wondering. And she discovered that, oddly enough, Obama will be baking a lot of sweet bean cakes this weekend. And McCain will be eating a lot of turkey. You probably think we're talking about Barack Obama and John McCain. But we aren't.

We've been asking you about the music that plays in your time off -- your Weekend Soundtrack. This week's story comes from Julie Nicholds. She listens to us in Wauwatosa, Wis. The soundtrack to her weekend is "Stuck in a Moment" by U2, and she tells us how it turned her life around.
America's Weekend via Flickr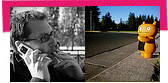 Weekend America Producers