Weekend America broadcast its last show Saturday, January 31, 2009. The show tried to tell the most eye-opening, memorable, astonishing stories about what was happening in America each weekend. On this site you'll find literally thousands of stories spanning nearly five years. Each time you visit the site, the story boxes will refresh with different selections from the archives. You can also use the search tool, or find programs by air date or producer name. Thank you to all the listeners, programmers and staff who made Weekend America a joy to produce. Peter Clowney, executive producer

Google and Verizon announce their joint position on net neutrality.

Ilana Rice is only 16, but she's already making a difference for veterans suffering from Post-Traumatic Stress Disorder. She's linking treatment of PTSD with the relationships veterans make with those who haven't seen the horrors of war, and how that dynamic might lead to better treatment.
We've heard a lot about how the recession has affected the "American Dream." But the literal meaning of the term hasn't gotten much attention. So how has the downturn been affecting Americans' dreams? Krissy Clark reports.

Last weekend in Bellingham, Wash., a Jesus statue was stolen for the third time this year. In Plaistow, N.H., one was plucked from its cradle and replaced with a beer can. Basically, where there's a nativity scene, there's a good chance there'll be a manger kidnapping, and rarely does the baby Jesus get returned. But in Buffalo, N.Y., an 18-inch plastic figurine was stolen 2 days before Christmas, last year, and returned to its owners' doorstep 8 months later, along with a photo album chronicling where he'd been. We investigate.
America's Weekend via Flickr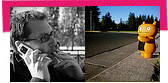 Weekend America Producers