Weekend America broadcast its last show Saturday, January 31, 2009. The show tried to tell the most eye-opening, memorable, astonishing stories about what was happening in America each weekend. On this site you'll find literally thousands of stories spanning nearly five years. Each time you visit the site, the story boxes will refresh with different selections from the archives. You can also use the search tool, or find programs by air date or producer name. Thank you to all the listeners, programmers and staff who made Weekend America a joy to produce. Peter Clowney, executive producer

A website called Pakreport.org is helping to collect information needed in relief efforts in flood-ravaged Pakistan.

For about a month now, Chicago Tribune columnist Dawn Turner Trice has hosted an online forum on race, where she encourages Web visitors to be honest. Some of those comments have been at times upsetting, controversial and touching. Trice discussed her feelings about the experience so far with Desiree Cooper.
Democrats from around the country are headed to Denver, by plane, train, and Prius, for their party's national convention. On Monday the delegates, regular and super, will get down to business, hammer out this year's party platform, pump themselves up--and the rest of America, they hope--for the general election season. But Denver's not waiting until then to get their party started.

Today is "World Naked Gardening Day." Gardeners around the world are marking the day with... well, nothing. Jay North, an organic gardener and "naturalist" in Ojai, Calif., talks with Bill Radke about the joys of gardening in the buff. Just be careful with the garden shears, and keep and eye out for bees...
America's Weekend via Flickr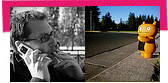 Weekend America Producers