Weekend America broadcast its last show Saturday, January 31, 2009. The show tried to tell the most eye-opening, memorable, astonishing stories about what was happening in America each weekend. On this site you'll find literally thousands of stories spanning nearly five years. Each time you visit the site, the story boxes will refresh with different selections from the archives. You can also use the search tool, or find programs by air date or producer name. Thank you to all the listeners, programmers and staff who made Weekend America a joy to produce. Peter Clowney, executive producer

Time for our weekly parlor game to keep track of the news of the week. We are joined by Yale University professor of literature Amy Hungerford' John Ridley, author and founding editor of thatminoritything.com; and Reihan Salam, associate editor at the Atlantic.

Bill Bishop, editor of an online magazine devoted to rural issues called "The Daily Yonder," talks about another voting divide: city versus country. He speaks with Weekend America host Desiree Cooper about what's on the minds of rural voters.
The economy may be wilting, but one thing is looking up in many parts of the country this weekend: The tomato vine in your neighbor's backyard and the squash patch down the block. Summer is ending and gardens are bountiful. Krissy Clark talked to some folks who discovered creative ways to harness their backyard bounty.

Comedian Stephen Colbert got his portrait hung in the Smithsonian's National Portrait Gallery, at the entrance to the restrooms. Humor's not unknown in museums, but we don't always expect to find it there. Weekend America host Bill Radke speaks with conceptual artist and critic Jonathon Keats.
America's Weekend via Flickr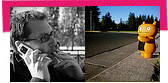 Weekend America Producers