Weekend America broadcast its last show Saturday, January 31, 2009. The show tried to tell the most eye-opening, memorable, astonishing stories about what was happening in America each weekend. On this site you'll find literally thousands of stories spanning nearly five years. Each time you visit the site, the story boxes will refresh with different selections from the archives. You can also use the search tool, or find programs by air date or producer name. Thank you to all the listeners, programmers and staff who made Weekend America a joy to produce. Peter Clowney, executive producer

Maybe this has happened to you: You get a bill with some crazy huge extra charge that you weren't expecting. Suddenly you owe hundreds of dollars more than you thought and you can barely even understand why. This week, the FCC is meeting to talk about cell phone bill shock. All this plus Justin Bieber (kind of).

The small city of Hamtramck, right in the middle of Detroit, fought a court order to help rebuild an African-American enclave destroyed by neglect. Now that enclave has new life, thanks to 200 new homes. And for two sisters, it's a new beginning.
Of course every industry has its jargon, but the words repeated daily on news shows (including ours) to describe what's going on in the Gulf of Mexico seem to have a special flair. Many of these words have a long history in the oil and gas industry.

L.A. Times columnist Steve Lopez wrote the first chapter of a new, online, collaborative novel project -- then he let the world write what happens next. The experiment has taken some surprising turns and the characters are getting dark and even stranger.
America's Weekend via Flickr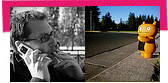 Weekend America Producers