Weekend America broadcast its last show Saturday, January 31, 2009. The show tried to tell the most eye-opening, memorable, astonishing stories about what was happening in America each weekend. On this site you'll find literally thousands of stories spanning nearly five years. Each time you visit the site, the story boxes will refresh with different selections from the archives. You can also use the search tool, or find programs by air date or producer name. Thank you to all the listeners, programmers and staff who made Weekend America a joy to produce. Peter Clowney, executive producer

This is a huge weekend if you're a fan of Guns N' Roses. The new album, "Chinese Democracy," is being released after 16 years. Lead singer Axl Rose, the only original member remaining, has been writing, tweaking, and fussing with this record since before the first Clinton administration. In other words, he's been editing. As any writer knows, it's the editing process that can really slow things down.

This week we hear from listeners who urge us to forget about the Seattle SuperSonics, chaperone a middle-school dance and get out Star Wars planets down.
Economic growth is often coupled with an increase in pollution. But those two factors may not be mutually inclusive, at least not the way they once were.

Eleven years ago, when Rob McGinley Myers was studying abroad in Spain, he wasn't exactly a successful champion of love or romance. But all that changed one Valentine's Day with a love letter.
America's Weekend via Flickr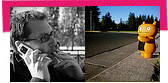 Weekend America Producers