Weekend America broadcast its last show Saturday, January 31, 2009. The show tried to tell the most eye-opening, memorable, astonishing stories about what was happening in America each weekend. On this site you'll find literally thousands of stories spanning nearly five years. Each time you visit the site, the story boxes will refresh with different selections from the archives. You can also use the search tool, or find programs by air date or producer name. Thank you to all the listeners, programmers and staff who made Weekend America a joy to produce. Peter Clowney, executive producer

This is a huge weekend if you're a fan of Guns N' Roses. The new album, "Chinese Democracy," is being released after 16 years. Lead singer Axl Rose, the only original member remaining, has been writing, tweaking, and fussing with this record since before the first Clinton administration. In other words, he's been editing. As any writer knows, it's the editing process that can really slow things down.

Foreclosures are ravaging the historic Detroit neighborhood of Palmer Woods, where reporter Desiree Cooper has lived for the past two decades. Many of the historic homes are now in advanced stages of foreclosure as home prices fall hundreds of thousands of dollars. Instead of weathering the storm, two of Cooper's neighbors are walking away.
The economy may be wilting, but one thing is looking up in many parts of the country this weekend: The tomato vine in your neighbor's backyard and the squash patch down the block. Summer is ending and gardens are bountiful. Krissy Clark talked to some folks who discovered creative ways to harness their backyard bounty.

Our non-experts tackle the weighty issues of the past week -- Fashion maven Damali Ayo; Luke Burbank, host of the talk radio show "Too Beautiful to Live"; and "New Yorker" cartoonist Bob Mankoff.
America's Weekend via Flickr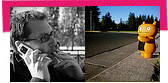 Weekend America Producers