Weekend America broadcast its last show Saturday, January 31, 2009. The show tried to tell the most eye-opening, memorable, astonishing stories about what was happening in America each weekend. On this site you'll find literally thousands of stories spanning nearly five years. Each time you visit the site, the story boxes will refresh with different selections from the archives. You can also use the search tool, or find programs by air date or producer name. Thank you to all the listeners, programmers and staff who made Weekend America a joy to produce. Peter Clowney, executive producer

Weekend America's John Moe met up with mosquito expert Mike McLean, who works for the Metropolitan Mosquito Control District in Minnesota's Twin Cities area. In this man-mosquito war, it's important to know your enemy -- so Mike took John to an infested pond near Lake Phalen in St. Paul for a little skeeter primer.

This week, Radio One, Inc. published a major survey of the African-American community. Researchers polled more than 3000 people about their attitudes toward everything from religion to health insurance. Turns out blacks are evenly divided over what they want to be called--black or African American. But that's not the only surprising finding.
The Bay Area city of Berkeley is often mocked as "Bezerkeley" or called the "People's Republic of Berkeley." But a new exhibit showcases all the firsts that the rest of the nation eventually emulated: police academies, gourmet coffee and brewpubs. So what's next? Krissy Clark sifts the past for a peek at the future.

Weekend America host Bill Radke continues his series on family values by discussing the rules of etiquette like "No elbows on the table." He and his wife disagree, so Bill brings in an expert on the history of manners.
America's Weekend via Flickr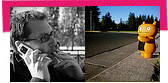 Weekend America Producers