Weekend America broadcast its last show Saturday, January 31, 2009. The show tried to tell the most eye-opening, memorable, astonishing stories about what was happening in America each weekend. On this site you'll find literally thousands of stories spanning nearly five years. Each time you visit the site, the story boxes will refresh with different selections from the archives. You can also use the search tool, or find programs by air date or producer name. Thank you to all the listeners, programmers and staff who made Weekend America a joy to produce. Peter Clowney, executive producer

"Heavy Metal in Baghdad" is now playing in selected cities. It's a documentary about two New York filmmakers who go to Iraq in search of the metal band Acrassiacauda. It's about the band trying to stay together as musicians while surviving a war. We talk to the band's drummer and the film director.

Listeners share memories from the moment the Rev. Martin Luther King, Jr.'s was assassinated, and sound off about last week's story of a man trying to find a wife in Thailand, and his son's trepidation about that quest.
The civil ceremony performers who make all those marriages legit are the true unsung heroes of June. And for at least one of those civil servants in Northern California, the diagnosis this weekend is exhaustion and the slightest case of something he never really thought he'd have -- his own pre-wedding jitters...

Two of the Best Picture nominations, "No Country for Old Men" and "There Will be Blood," were shot in the small, southwest Texas town of Marfa. We hear from a local resident about the experience of having Hollywood invade his quiet town.
America's Weekend via Flickr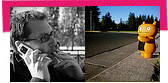 Weekend America Producers