Weekend America broadcast its last show Saturday, January 31, 2009. The show tried to tell the most eye-opening, memorable, astonishing stories about what was happening in America each weekend. On this site you'll find literally thousands of stories spanning nearly five years. Each time you visit the site, the story boxes will refresh with different selections from the archives. You can also use the search tool, or find programs by air date or producer name. Thank you to all the listeners, programmers and staff who made Weekend America a joy to produce. Peter Clowney, executive producer

This week, the Obama administration's stimulus package passed the House. The Senate votes next. For some state agencies, you'd think it might be a challenge divvying up the funds. But Malcolm Wolf doesn't think it will be too difficult. He's the director of the Maryland Energy Administration, and we spoke to him about how the money will be spent in his state.

The second-annual GI Film Festival gets underway in Washington, D.C. this weekend. They're showing a mix of recent feature films, documentaries, even some classics. Larry Suid is a military historian, speaking on a panel today about the 100 greatest war movies. Desiree Cooper asks what makes a good war film.
If it's cold where you are this weekend, you can hug for warmth. Chances are, if you hug, it will be with someone you know. Such is not the case with a woman named Amma. In the last few days, Amma has hugged about 10,000 people. And next week she'll hug several thousand more. A couple years ago, she hugged Weekend America's Krissy Clark in San Francisco.

Our latest panel of non-experts weigh the week's biggest headlines: Firoozeh Dumas, author of "Laughing Without an Accent"; Gustavo Arellano, writer of the infamous "Ask a Mexican" advice column for the OC Weekly; and David Rakoff, author of "Don't Get Too Comfortable."
America's Weekend via Flickr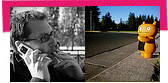 Weekend America Producers