Weekend America broadcast its last show Saturday, January 31, 2009. The show tried to tell the most eye-opening, memorable, astonishing stories about what was happening in America each weekend. On this site you'll find literally thousands of stories spanning nearly five years. Each time you visit the site, the story boxes will refresh with different selections from the archives. You can also use the search tool, or find programs by air date or producer name. Thank you to all the listeners, programmers and staff who made Weekend America a joy to produce. Peter Clowney, executive producer

Big tech companies are not satisfied to just be on your computer or phone. They want to go where you really spend time -- on your TV. We take a look at the emerging Google TV technology as well as the recently released Apple TV. We also give you an update on new Facebook features and talk about how people are cheating their way through an English hedge maze.

This weekend is National Coming Out Day. But coming out can still be dangerous and risky. Pape Mbaye is a well-known, openly gay Senegalese entertainer. In February, a magazine published photos of him attending an underground gay marriage that started an onslaught of threats and attacks. With the help of human rights organizations, Pape has attained refugee status in the United States. He's been living in New York for a month.
This week, the buzzword was "hope" for many voters around the country. But not for gay and lesbian couples in California, where the electorate passed ballot Proposition 8 - a constitutional amendment banning same-sex marriage. Three lawsuits have already been filed to overturn the ban. While the presidential campaign is finally over, the fight over the definition of marriage still has a long way to go.

How do you laugh at Barack Obama? Members of Chicago's Second City share some comedic advice.
America's Weekend via Flickr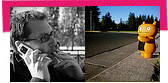 Weekend America Producers