Weekend America broadcast its last show Saturday, January 31, 2009. The show tried to tell the most eye-opening, memorable, astonishing stories about what was happening in America each weekend. On this site you'll find literally thousands of stories spanning nearly five years. Each time you visit the site, the story boxes will refresh with different selections from the archives. You can also use the search tool, or find programs by air date or producer name. Thank you to all the listeners, programmers and staff who made Weekend America a joy to produce. Peter Clowney, executive producer

The Ann Arbor, Mich., band Nomo is on the road a lot. This weekend in Minneapolis, next weekend in Madison, Wisc., supporting their new album Ghost Rock. For Nomo, touring is no easy feat. There are up to eight musicians and an avalanche of equipment, including a bunch of instruments you've never seen before.

The Democratic Party is hotly divided, and a fundraising dinner tonight will bring the topic to a boil. Lynne Rossetto Kasper, host of American Public Media's Splendid Table, talks about the power of breaking bread with your rivals, and how it can lead to deeper understanding and even amicable compromise.
On the front page of Friday's New York Times, an article called "Donors Worried by Clinton Campaign Spending" detailed the millions that Senator Hillary Clinton is spending on her presidential run. Most of the money was spent on what you'd expect: thousands on hotel rooms, campaign consultants, media buys and polling. But some of the expenditures were pretty odd.

Haans Petruschke's Weekend Soundtrack is provided by the beauty that greets him outside his door every day.
America's Weekend via Flickr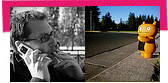 Weekend America Producers