Weekend America broadcast its last show Saturday, January 31, 2009. The show tried to tell the most eye-opening, memorable, astonishing stories about what was happening in America each weekend. On this site you'll find literally thousands of stories spanning nearly five years. Each time you visit the site, the story boxes will refresh with different selections from the archives. You can also use the search tool, or find programs by air date or producer name. Thank you to all the listeners, programmers and staff who made Weekend America a joy to produce. Peter Clowney, executive producer

How important is staying technologically connected when you're being a parent? It can help you make the parenting experience less isolating, but it could also isolate you from your child.

Many people in the United States have fond memories of summer road-trip vacations, and our Desiree Cooper is no different. But the specter of racism colors some of her most treasured family memories.
In Las Vegas, booming home construction, unscrupulous lending and lots of housing speculation by first-time investors has resulted in some of the nation's highest foreclosure rates. Even high-end gated communities in the suburbs have felt the sting of the market downturn.

He's green and magic and lives by the sea, but for Bill Radke, Puff inspires fear and dread.
America's Weekend via Flickr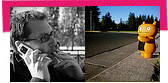 Weekend America Producers