Weekend America broadcast its last show Saturday, January 31, 2009. The show tried to tell the most eye-opening, memorable, astonishing stories about what was happening in America each weekend. On this site you'll find literally thousands of stories spanning nearly five years. Each time you visit the site, the story boxes will refresh with different selections from the archives. You can also use the search tool, or find programs by air date or producer name. Thank you to all the listeners, programmers and staff who made Weekend America a joy to produce. Peter Clowney, executive producer

Internet users may be broadcasting data over their routers that they don't even know about.

Last week, we brought a story about moving and what that means for the fate of our emotional baggage. Nicole Rabaud talks about the stacks of documents relating to her parent's divorce.
You might be busy this weekend getting ready for election day. Poring over voter guides, fact-checking candidate claims, getting informed. If you're doing any of those things, however, you are different than most Americans. Here are some scary statistics: Only two out of five Americans can name the three branches of the federal government. Only one in seven can find Iraq on a map. A majority don't know the name of their Congressional representative.

Indiana Jones has taught the world what it takes to be an archaeologist: carry a bullwhip and avoid Nazis. Real-world archaeologist Rebecca Graff's brand of archeology is a little closer to home -- she and a team of 20 undergrads are digging up Chicago's Jackson Park to find artifacts from the World's Fair of 1893.
America's Weekend via Flickr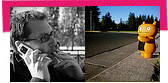 Weekend America Producers