Weekend America broadcast its last show Saturday, January 31, 2009. The show tried to tell the most eye-opening, memorable, astonishing stories about what was happening in America each weekend. On this site you'll find literally thousands of stories spanning nearly five years. Each time you visit the site, the story boxes will refresh with different selections from the archives. You can also use the search tool, or find programs by air date or producer name. Thank you to all the listeners, programmers and staff who made Weekend America a joy to produce. Peter Clowney, executive producer

Our panel of non-experts weigh in on this week's news events in a parlor game to gauge what kind of week America had. Joining us on this week's panel are: Nancy French, author of "A Red State of Mind"; comedian and writer Dana Gould; and Yale literature professor Amy Hungerford.

Reggie Prim spent his childhood being raised with the Black Hebrews in Israel. As a kid, he sang with the music group the Tonistics - a religious soul group modeled after the Jackson 5. The Tonistics' songs from the early 1970s have just been re-released. Reggie isn't exactly nostalgic for his childhood in Israel. But the re-release of the music from Dimona has brought back memories about his extraordinary journey from Israel back to the United States.
In this, the penultimate weekend before the election, you might be wondering what Obama and McCain are doing in their off-camera moments. That's what Weekend America's Krissy Clark was wondering. And she discovered that, oddly enough, Obama will be baking a lot of sweet bean cakes this weekend. And McCain will be eating a lot of turkey. You probably think we're talking about Barack Obama and John McCain. But we aren't.

Standing by New York Gov. Eliot Spitzer when he resigned in disgrace was is wife Silda. Why does a wife stand by her man, even in the worst of circumstances? We talk to Lyndon B. Johnson biographer Robert Caro as he discusses how Lady Bird handled her husband's public indiscretions.
America's Weekend via Flickr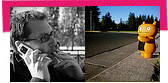 Weekend America Producers