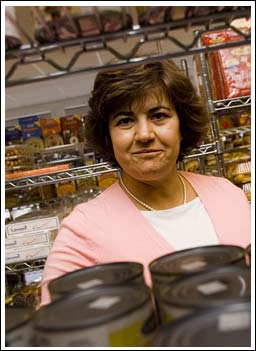 Nasrin Mohamadi Recipe
Tachin (also spelled Tacheen)
Baked chicken and crunchy rice
ingredients
» 3 cups long grain white rice
» grapeseed oil as needed for frying
» 2 lbs skinned and boned chicken thighs
» 1 onion, sliced
» 1/4 teaspoon garlic powder
» 1/2 teaspoon ground saffron, dissolved in 1/8 cup water (after pouring in dissolved saffron, use a little bit more water to be sure to get all saffron into dish. Repeat process below)
» salt and pepper to taste
» 6 eggs
» 1 lb thick plain yogurt (found in Middle Eastern Stores)
» 1/2 teaspoon saffron, dissolved in 1/8 cup water
» salt and pepper to taste
directions
Cook rice with more than enough water in rice cooker until half way done, about 15 minutes. Drain rice and set aside.
While cooking rice, cut chicken into thick pieces. Place in lightly oiled pan with onion slices and sauté. Add garlic powder and saffron water and simmer on medium high until cooked, about 15-20 minutes.
Crack eggs in bowl and mix with mixer until the color changes from dark yellow to light yellow (make sure eggs to not stiffen). Mix in yogurt and saffron in water by hand. Add cooked chicken to mix and let stand a few minutes (up to an hour) in marinade.
Lightly grease 9 x 13 glass baking dish. Spoon marinade (without chicken pieces) into the dish until lightly coated with sauce. Place half of rice on bottom of dish and flatten. Next, layer the chicken and marinade on top of the rice. Spoon the remaining rice into the marinade bowl and coat rice with remaining marinade, then layer on top of the chicken. Cover with foil and poke holes in foil to allow the air to escape dish. Place in preheated 350 degree oven for one hour. Let sit a few minutes to cool, then flip dish over onto a serving platter to expose bottom layer of rice. Serve with greens, lentils or steamed vegetable.