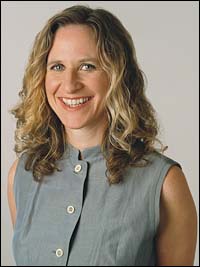 Barbara Bogaev is host and senior editor of Weekend America, the nationwide weekend radio magazine from American Public Media.
Bogaev is one of two hosts of Weekend America, a program that presents news and analysis, interviews, features, music and commentaries with a fun and engaging style that appeals to weekend listeners.
Bogaev's broadcast experience bridges television and radio, behind the scenes and in front of the mike. In addition to her informed and winsome presence as the interviewer who fills in for Terry Gross on NPR's Fresh Air, Bogaev has also hosted a weekly radio newsmagazine on health and medicine, and produced sound features and in-depth documentaries on topics as varied as technology in education, riverboat captains and poetry. She also serves as the host of public radio's longest-running national weekly documentary series, Soundprint.
Terry Gross calls Barbara Bogaev "a great host and interviewer." She added, "Barbara is smart and funny and asks questions about what's going on between the lines and underneath the surface. She's comfortable with an enormous range of subjects, and always knows what to ask and how to ask it. When she hosts Fresh Air, I know I'm leaving it in good hands."
Weekend America listeners enjoy unusual and amusing experiences with Bogaev, as evidenced by her colorful personal and professional past: In addition to her proven skill at talking to newsmakers about the events of the day, Bogaev has exchanged fashion tips with transvestite-singer RuPaul and designer Isaac Mizrahi, taught listeners how to make fake blood with guidance from B-movie actor Bruce Campbell, and written collaborative short fiction with callers on the air. She lost a mike while climbing the highest billboard in Philadelphia to interview sign painters. Stranded in a freak snowstorm at the pass of the Atlas Mountains in Morocco, Bogaev and her distressed travelers ended up inadvertently setting fire to a sheepherder's hut. And then there's that police record in Germany... (skinny-dipping).
"One of the things I enjoy most on this show are the live segments, conversations with contributors, reporters and guests," Bogaev says. "As a listener to public radio and as a host, I love it when the unexpected happens on the air. Someone once called this 'the necessary accident' -- the thing you could never predict that makes a work of art or literature or an interview original and compelling and human. That's what I hope for with this show. I'm not a terribly polished person, I like rough edges."
Bogaev was chosen after Weekend America interviewed more than 50 public radio program directors and several dozen successful producers, considered more than 100 candidates and talked with listeners about the finalists.
In addition to anchoring the broadcast, she helps design the program and serves as a senior editor.
Bogaev's other broadcast experience includes writing and production work for a PBS television series and serving as a freelance costumer, locations scout, production accountant and script supervisor for television series and films by Nickelodeon, CBS and others. She has also frequently anchored Philadelphia station WHYY's local live two-hour public affairs and popular culture talk show, Radio Times with Marty Moss Coane, and was the original producer of the show.
Bogaev holds a B.A. cum laude in Comparative Literature from Yale University.
WHAT OTHER PEOPLE SAY ABOUT BARBARA BOGAEV
Moira Rankin, executive producer of Soundprint:
"Her voice is one that public radio listeners know and trust. She is warm and engaging, has a playful curiosity and a live natural sound, and great storytelling ability. Whether it's the legacies of war or the amorous interests of elephants, she tells a story every week that makes us want to listen and come back for more."
Danny Miller, Executive Producer of Fresh Air:
"Barbara has smarts, an earthy sense of humor, a wide range of interests, solid editorial judgment and great production ideas. I'm very grateful for the many times she has filled in for Terry, and I'll miss her presence on Fresh Air. But it's time for her to get her own show, especially since she'll have a big hand in creating it. I'm looking forward to hanging out with her on the radio during the weekend."