About the series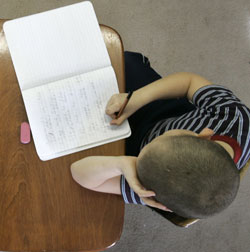 What do you think?
Should parents pay their children to get good grades? We talk to a parent who pays her 6th grader $5 for every A he gets. And we talk to a parent who's philisophically opposed to that practice.

Send us your feedback
Once a month we will bring together two people with different backgrounds, each distinguished in their fields, to wade into a stranger's moral quandary. Meet the members of the Weekend America "Solomon Squad":
Should parents offer monetary rewards to motivate their kids to get good grades? This week host Bill Radke tackles this moral quandary with two parents and our "Solomon Squad" panelists, Lionel Sosa and Sherry Lansing
More about our panel

Lionel Sosa: Lionel Sosa is an independent marketing consultant. He founded Sosa, Bromley, Aguilar & Associates, now Bromley Communications, the largest Hispanic advertising agency in the U.S. with current billings of $280 million.
From 1991 to 1995 he was Chairman of DMB&B/Américas, a network of 23 advertising agencies in the U.S. and Latin America with billings of $500 million representing multi-national clients such as Coca-Cola, Burger King, Anheuser Busch, American Airlines, 23 Procter & Gamble brands, Western Union and Sprint.
( more... )

Sherry Lansing served as Chairman of the Motion Picture Group of Paramount Pictures from November 1992 until March 2005. She currently serves as the CEO of The Sherry Lansing Foundation.
Under her chairmanship at Paramount, Lansing oversaw more than 200 films, three of which won the Academy Award® for Best Picture: "Forrest Gump," "Braveheart," and the highest grossing movie of all time, "Titanic." A pioneering studio executive, Lansing is the first-ever woman in the film industry to oversee all aspects of a studio's motion picture production. ( more... )