About the series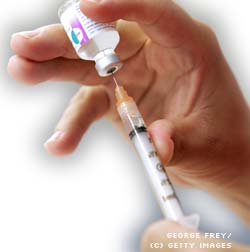 We'd love to get your suggestions for other issues you'd like our Solomon Squad to tackle. How about the name of the series? Not working for you? We're open to suggestions. Other working titles included "God Squad," "Moral Compass," "The Conscience Crew" and "Armchair Philosophers." Send us your feedback and suggestions.
Once a month we will bring together two people with different backgrounds, each distinguished in their fields, to wade into a stranger's moral quandary. Meet the members of the Weekend America "Solomon Squad":
This week, Sherry Lansing and William Hurlbut will consider the touchy issues involving parents, pediatricians, and vaccination, through the eyes of Dr. William Zavod, a pediatrician from suburban Philadelphia.
More about our panel

William B. Hurlbut, M.D.: William B. Hurlbut is a physician and consulting professor in the program in Human Biology at Stanford University. Born in St. Helena California, he grew up in Bronxville, New York. After receiving his undergraduate and medical training at Stanford University, he completed postdoctoral studies in theology and medical ethics, studying with Robert Hamerton-Kelly, the Dean of the Chapel at Stanford, and subsequently with the Rev. Louis Bouyer of the Institut Catholique de Paris. In addition to teaching at Stanford, he currently serves on the President's Council on Bioethics.
( more... )

After leaving Paramount, she formed the Sherry Lansing Foundation which is dedicated to health issues. She also serves on the Stem Cell Oversight Committee for California, the Executive Committee of the Board of Directors of Friends of Cancer Research, and as a Trustee of the American Association for Cancer Research. Additionally, she serves as the Chair of Stop Cancer, a non-profit philanthropic group she founded in partnership with Dr. Armand Hammer. Lansing is a Regent of the University of California and a member of the American Red Cross Board of Governors. In 2005, Lansing was appointed to the Independent Citizens Oversight Committee of the California Institute for Regenerative Medicine. ( more... )
For more information about vaccination
Anti vaccination
» Vaccination Myths :
http://www.drcarley.com
» How Could Vaccines Cause Damage? :
http://www.healing-arts.org
Pro vaccination
» Responding to parental Refusals of Immunization of Children (American Academy of Pediatrics):
http://aappolicy.aappublications.org/cgi/reprint/pediatrics;115/5/1428.pdf
» Immunization Issues:
http://www.immunizationinfo.org/immunization_issues_detail.cfv?id=26
For more information
» No Immunizations? No Treatment. Many Doctors Take a hard Line on Vaccinating Children:
http://www.philly.com/mld/inquirer/12811633.htm
Articles and background information
» Diphtheria Tetanus and Pertussis Vaccines:
http://www.cdc.gov/nip/publications/VIS/vis-dtp.pdf
» Poliovirus Infections in 4 Unvaccinated Children:
www.cdc.gov
» Medical Ethics:
http://en.wikipedia.org/w/index.php?title=Medical_ethics
» No Shots, No Service:
http://www.iht.com