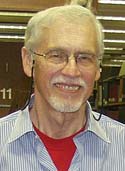 Cleatus Rattan
There won't be a poet present when President Bush is sworn in to his second term next week, unlike many of the Democratic Inaugurations. Weekend America talked with Texas Poet Laureate Cleatus Rattan about the poem that he would share at the Inauguration if asked.
Making the Grade
Living on a flat land ranch
and teaching in a college on a hill
is a simple life. Six miles
from the college, I sequester myself
on my principality, but the worlds
are connected. Occasionally the radio
and tv tell me about that other world --
schedules and such. At night
Fred and ginger sometimes tap
out messages about up-hill battles.
From my place, I can see the highway
weaving its way up the hills,
connecting the quilt of country
to the college where I am mastered,
often. Each morning I eye my gate
reluctantly, pierce reality and draw
myself toward a tapestry of minds seemingly
interested only in things as simple as A B C.
Honor
Listen
My father was the point of the triangle
as I was flanked by uncles. Mother was distant,
sobbing slightly, out of sight behind the barn.
Honor was father's word, and I took
my usual bracing stance when he used it.
He looked into my eyes. Uncles were quiet
as ex-marines on parade. He put too much money
into my hand: "go to your war, if you must,
but come home with your shield or without it."
The sun and moon have circled and hidden
each other many times since that day.
I have seen my ring of friends broken
in flames, had my luck, but I have never
been richer than that glaring moment
when mother's eyes were red as cinders.
Can These Flowers Live?
Listen
Maiden Aunt Mary, always Maiden Aunt
Mary, hair as short as the heels
on her black shoes, read the bible
every hour she wasn't sewing or gardening
or dressing to go to town for church.
She read to prove she had missed nothing
but the prophets and hell's fire.
She made no bones about her perennials
and planted way up there, in the middle
of the north pasture, her purple violets
and other flowers no one has names
for now. They are there, still defying
cash crops, fleshing out each year
and blessing, always blessing,
Momma's grave and Poppa's.
Cars stop and men take off their hats,
then mop their brows while women
take pictures, preserving forever
the acres of purple flowers
in the middle of cotton,
replanted year after year.
<<
More
stories from the January 15 broadcast